You probably have heard plenty about many bass fishing pros using the new Berkley Fluorocarbon and how great it is and how its not available to the public yet, well now it is!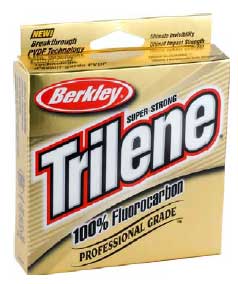 Berkley Trilene 100% Fluorocarbon Line
Get the new line that everybody is talking about! Berkley has 48 B.A.S.S. and 33 FLW Pro's already currently fishing with this line. The line boats the following properties:
-Ultimate Invisibility-The invisible fluorocarbon. Similar refractive index as water so fish can't see it.

-Ultimate Impact Strength-Proprietary 100% PVDF formula specially processed for the ultimate in impact strength.


-Higher Strength per Diameter-The ultimate fluorocarbon, diameter for diameter.


-Excellent Manageability-Lower memory for superior casting.



I never had good luck with Vanish, but this is supposed to be far superior line, I will probably order a spool or two and give it a whirl. Interestingly enough it comes in clear & green. I like the sounds of green fluorocarbon....

Would love to hear from anyone else that has tried it,
HellaBass
RichLindgren.com
Bassin' Blog
Rich's Bass Fishing Forum