20%
DISCOUNT COUPON


Back to School Discount on All Lures, Rigs,
& Tackle

Packs!




B10820

(expires 8/31/2010)

Here's an economic stimulus plan that actually works. Keep more money in your wallet while putting more fish in your livewell.

Children are not the only critters going to school these days.

Get ready for fall schooling action! Now is the time to build your Secret Weapon arsenal. And to help you be ready when the fish are, we're knocking off 20% on all Secret Weapon spinnerbaits, buzzbaits, Recoil Rigs and component kits when you use this code on check-out from the SWL Online Armory: B10820. Consider it your fall fishing stimulus package

USA-made quality and service, greater selections, unparalleled value and performance... at a savings of 20% through August 31 only at Secret Weapon's Onine Armory.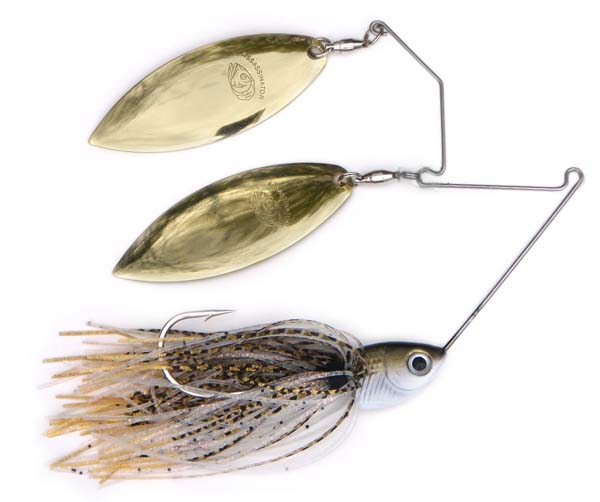 Big Bass Bait
With as many excellent blade baits as Secret Weapon offers today, it's hard to pick out favorites. It's like choosing your favorite child... they're all great!
But for big bass and pike, there is no question. To catch kicker fish, the hands-down pick among Secret Weapon Pros is the Pro Assassinator Clacker.
In-Fisherman editor Steve Quinn wrote concerning this bait, "...[The Clacker] places two willowleaf blades parallel above the head and the hook. The blades, turning on ball bearing swivels, hit each other regularly as they turn in small circles. This contact, audible even above the surface, creates an underwater flash that can be produced only be bumping an object or stopping the retrieve to "kill" the bait."
10 Bass/110 Pounds — A while back one well-known professional angler and promoter shot a TV commercial for another spinnerbait company on Mexico's El Salto. After boating numerous bass in the two and three pound range, his producer complained about the dinky bass they were getting. Without a word, the angler clipped off the company's spinnerbait, pulled a Clacker out of his tackle locker, tied it on, and a few casts later was rewarded with an eleven-pound bass. The producer protested the he was supposed to use the company's products, to which the angler replied, "Son, make up your mind. You can edit out the tape, but if you want big bass, you gotta throw a big bass lure."
He proceded to catch ten bass that totaled over 110 pounds using only the Clacker, and the company ended up with a great (although a bit misleading) TV commercial.
Nickajack Bass Whack — SWL Prostaff Jake Davis had his own big-bass Clacker day on Nickajack Lake in Tennessee. Several days of heavy rain preceeded the tournament, muddying the water and driving bait fish tight to cover. Nickajack has huge expanses of milfoil and hydrilla, and the bass were feeding on shad fry hiding in the leafy canopy.
Jake tied on a Current River Shad pattern 1/2-ounce Clacker and started whacking the bass. He retrieved the lure slowly right above submerged vegetation, dropped it in holes, and swam it alongside floating mats. The clicking, clanking blades sounded like a dinner bell to the bass, and Jake pulled one chunky largemouth after another from the weeds. Although he used 60-pound super line, twice he broke off on eight-pound-plus sows that burrowed down into the slop before he could turn them.
Five other tournament competitors edged nearer for a closer look. They could tell Jake was flinging spinnerbaits, but their own were getting shunned. Jake showed them his unique dual-bladed spinner, but none of them had any, so they stuck with their favorite brands. Every now and then one of the other boats connected with a one or two pounder, but they lacked the key to unlock those bucket-mouths.
Finally tally... Jake's five fish broke 24 pounds, even without those two 8-pounders, and he took big bass and first place. Second place was a 5-fish bag weighing twelve pounds. No other competitor weighed in more than two keepers that day.
Old Hickory bass guide JW "Coop" Moreno swears by his Chartreuse and White Clacker twelve months a year. He claims to have caught more bass on a single Clacker this year than all other spinnerbaits combined over the last three. He has worn off the paint, straightened the blades and frame, and replaced his skirt, but his Clacker keeps on ticking. Most times, Coop says, bass slam the bait at full speed. He's never seen anything like it!
Take advantage of our limited time discount now and add a few Clackers to your own Secret Weapon arsenal..
---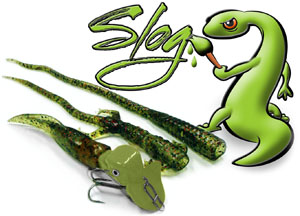 SLOG Countdown
4-IN-1 LURE READIED FOR LAUNCH
Sportfishing's newest Secret Weapon is nears deployment. Code-named "SLOG," this entirely new class of lures will give anglers a strategic advantage on their next fishin' mission.
The Slog is actually a tackle system consisting of a crankbait body that can be fished alone, or to which a variety of soft-plastic bodies can be attached. Whether fished as a crankbait or as a swimbait — snake, lizard or goby/pollywog — the inimitable action and realistic appearance make this a must-have tackle system for every angler's arsenal.
Lure builder and fishing guide Stanley Smith of Eminence, Missouri, designer of Pro Assassinator™ high-performance spinnerbaits and buzzbaits, said this is not just the best lure he's ever developed, but quite possibly the best he's ever used. "Every angler who's seen this bait move in the water knows exactly where he wants to use it," Smith said. "There's absolutely nothing else like it in the world."
Secret Weapon Intel Briefing Subscribers will get first crack at the Slog plus a special pre-release discount offer. Look for a special Intel Briefing on or before August 31.
---
Frog Fishing Techniques & Equipment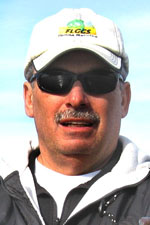 Captain Mike Gerry of Fish Lake Guntersville Guide Service, offers hard-won advice for the fall frog bite.
With the best days of frog fishing still ahead, I thought I would spend a little time talking through some of the detail of frog fishing. Let's start with the most important: equipment. Rigging is everything. It is the backbone of catching a fish on a frog.
Before heading to the lake, rig up a long, 7'6" fishing rod. The long rod allows you to make casts deep enough into the grass mat to catch a fish. It should be stout, too… with enough backbone to haul big bass draped with three pounds of salad out of the slop and into the boat.
Spool your reel with 50-pound-test braided line. Braid ensures that your hook set will be strong enough to drive frog hooks deep into the bass mouth, and also that you can turn the fish before it burrows back down into the grass.
One of the most important aspects of frog fishing is the hook set. I believe a long, side-sweeping hookset is best. It gives you control of the rod; it allows a deep-set hook in the fishes mouth, and it gives you control of the fish after she is hooked. I've seen folks set the hook with an upward motion, only to have the shock of the strike, size of the fish, and the weight of the grass jerk the rod right out of their hands.
The next key is the right grass. Not all grass beds are created equal. Look for the nastiest, dirtiest foamy grass that creates a trail with your frog. Also look for movement in the area of bait fish, carp, or bluegill.
Lastly look for the holes in the grass that serve as ambush area for bass. They sit back under the edge and will blast a frog that crosses over.
Work your frog several different ways. Pop it, stop it, crawl it, twitch it, move it fast, move it slow until you find a retrieve that causes a blow-up. Then it's pretty simple… just repeat the fish-catching motion.
Give me a call, and I'll put on some exciting fall-fishing action on America's big bass factory, Lake Guntersville!
Capt. Mike Gerry
Fish Lake Guntersville Guide Service
www.fishlakeguntersvilleguideservice.com
Email: bassguide@comcast.net
Call: 256 759 2270
---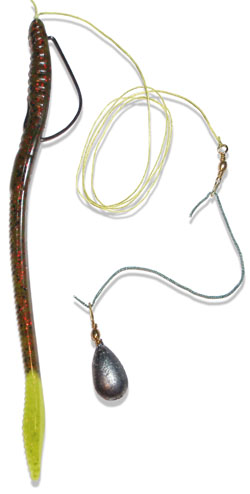 Hot Water - Deep Bass Secrets — Fishing Hall of Famer Benny Hull offers advice to anglers who wonder "What happened to all my bass?!" He says they're still around and in hot weather they feed voraciously, but you have to know where to look for them. Benny writes:
When air temps reach the mid-80's to 90's and water is up in the 80's, knowledgeable anglers know it's time to start looking for bass in their deep hangouts. Knowing that is one thing… finding the haunts that hold big bass is something else.
Or major river impoundments all summer long you'll see bass boats patrolling the first drop off into the channel, one eye on water skiers and the other on their Sonar, scanning the contours for telltale blips marking fish. Rarely, if ever, will I see fishing boats positioned out over the mother lode. I'm talking about deep mid-channel ridges and humps. Before the rivers were impounded, these were mid-stream islands. Now, far from shore and deep below the surface, they're largely ignored.
When fishing this pattern, look for ridges parallel to the riverbed, 15 to 18 feet deep on the tops with sharp drop-offs going down another 30 to 40 feet. Idle slowly along the edges and check your Sonar for fish down about half-way. Those could be big cats, stripers, or bass… you never know.
Read more of this and other articles that reveal the tactics and tricks Benny Hull learned over a lifetime of fishing and guiding on the Tennessee River and lakes across the country.
And watch Hull's TV show online on MyOutdoorTV.com.