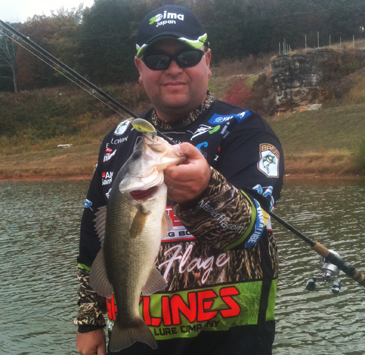 After 18 months of collaboration between 3-time Bassmaster Classic qualifier Bill Lowen & the engineers at IMA Lures in Japan, IMA will release the
Square Bill
at the upcoming Bassmaster Classic in New Orleans, where Lowen will compete. As the name suggests, this new lure is a
square-billed crankbait
that combines the legendary hunting action of hand-crafted balsa lures with the consistency & durability of plastic.
"This lure is so much more versatile than any other square-bill I've fished," said Lowen, who played an integral role in the many prototypes that led up to the final products. "I've dreamed of something like this for decades. It acts like the best handmade balsa baits. Every crankbait has a wobble, but the good
balsa crankbaits hunt. They'll jump off to the left, run a bit, jump off to the right, and always work their way back to the center. That action triggers bites."
The IMA Square Bill has a stubby, rounded body that produces an earth-shaking wobble, bold eyes, a lexan lip and two sticky-sharp #6 hooks that'll nab even the short-strikers, although most bass absolutely choke this bait down.
The lure runs properly right out of the package and the lexan lip and durable body mean that it can take more abuse than its balsa counterparts, which often need frequent tuning. The Square Bill runs shallower than other manufacturers' square-bills, 2 to 3 feet deep on typical cranking tackle. Lowen, a noted shallow-water specialist, occasionally upsizes his line to burn it over grass or in the shallowest water possible. Despite the heavier line, the lure still maintains its signature action. At 3/8 of an ounce, it casts like a bullet, too, another advantage over the balsa cranks. In addition to a straight, steady retrieve and burning, Lowen also likes to twitch the lure & wake it.
"It's just about a 12 month out of the year lure," said Matt Paino, Vice President of Sales for IMA. "We expect that shallow water anglers coast to coast will consider this a 'go to" for years to come." IMA will release the Square Bill at the 2011 Bassmaster Classic in 9 colors & it will retail for $16.99.


IMA Lures are distributed in the United States by Optimum Bait Co. For more information about IMA, go to www.imalures.com. Also find all the current great Ima baits at www.BassTackleDepot.com