Hopefully will keep the doctor away but not keep you from loading the boat with plump bass!
Check out these innovative new rods that Classic Champ Boyd Duckett helped develop. They are supposed to be super light and actually have some carott or cellulose fibers in its construction.....
Plus they are pretty sweet looking!!!

e21 Boyd Duckett Classic Gold Casting Carrot Stix
Designed by Boyd Duckett, 37th Bassmaster Classic World Champion and Ken Whiting the "Wizard of Rods", our new Classic Gold series is a striking combination of versatility and performance From its high tech "Stress Free" blank design in high modulus graphite and Nano Cellulose Bio-Fibers to its anodized scandium weight port butt cap the Classic Gold series is on fine piece of fishing equipment. Meticulous attention to detail is paid to the construction of each and every Classic Gold rod as noted by many inherent features, which would typically only be found on custom rods. For example, locking wraps on each single foot guide, guides with no ceramics to crack or fall out, our easy access weight port for personal balancing and our own in house "Maximum Exposure II" split reel seat for the ultimate in blank/hand contact and sensitivity. In terms of performance the Classic God Carrot Stix series exhibits an extremely well balanced combination of lure presentation, castability and overall rod control. As Boyd said, "If this wasn't the sweetest rod I've ever fished with, it wouldn't have my name on it".



Lite weight high modulus graphite and nano bio-filter blank

Lite weight double swaged pac bay guides with TiCH frames and inserts

Lock wraps on all single foot guides, both casting and spinning

Ultra lite graphite filled "maximum exposure II" split reel seats on both casting and spinning model

State of the art "velvet touch" split grip

All new non-obtrusive TiCH hook keeper

Screw on anodized scandium butt f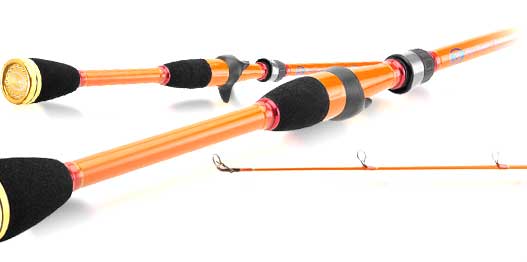 or easy access to blank weight port