Is the Secret out on Sercret Lures?
This company is brand new, but they have some good things they are working, probably most notably their new

Secret Lures Chubby Frog Series
The colors are designed to produce fish in a wide range of conditions, and the body design of all models aid in hooking those big ones!



On days when the frog bite is "on" they recommend the full color frogs, since they offer the largest profile for the fish to attack. These full color versions also excel in heavy vegetation and stained water, since the fish have more to key in on. On those tougher days when the fish are just nipping at the frog, they recommend any of the CLEAR LEG colors. With these Secret Lures originals, those subtle bites are now directed right at your hook, so you can still put those fish in the boat.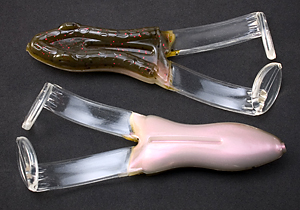 The full body color Chubby Frogs can be fished a variety of ways; not just a topwater lure. They work great Carolina rigged, Texas rigged, and are deadly as a jig trailer.

Clear Leg Option: With this original design, fish focus their attack ON the hook, not behind it. Notice how the tapered body and clear legs give the Chubby a unique baitfish profile, unlike any other frog. It's very productive as an open water lure and triggers explosive strikes around cover. 5" long, 5 per pack.
They also have some great hooks for both Buzz Frogs and Swimbaits!!!