Most of you have noticed the growing popularity of buzz frogs and toads like the
Zoom Horny Toad
,
Gambler Cane Toad
,
Sizmic Toad
or
many others
. The reason is, they flat out catch fishm and big'uns! There are a couple drawbacks:
Frog rolling over
Sometimes poor hook ups
Enough weight for long casts
It looks like Tru-Tungsten & Greg "Hack Attack" Hackney have come up with a hook that solves all those issues -

Tru-Tungsten Hack Attack Frog Hook
The Tru-Tungsten "Hack Attack" Frog Hook design helps provide extra casting distance while landing on its belly to prevent weeds from fouling the bait. It also keeps the bait keeled to prevent rolling or rocking of the frog. The unique double hook rigging prevents plastics from pulling down, resulting in fewer missed fish. Enjoy the benefits of more hook-ups and multiple fish without tearing each plastic frog!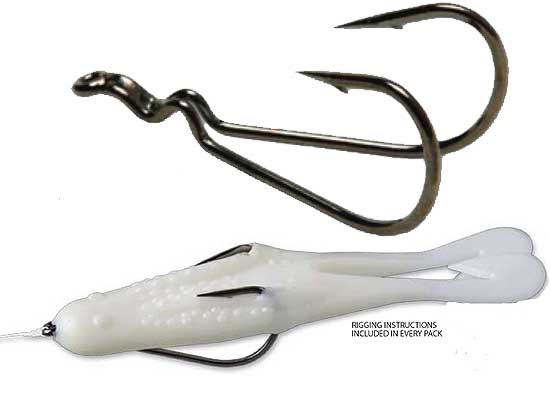 You simply squeeze the hooks together, feed thru the nose of your bait. Once thru the nose, let the hooks open an insert those two giant gaffs into the back of the bait. Cast into your favorite grass bed and hold on ;)